Quality Pest Solutions For Bedford, MA Properties
Bedford offers its residents the New England culture and weather we love. When the seasons change, it keeps life interesting and inspiring. Unfortunately, it can also inspire pests to find ways to sneak into our spaces to share our comfortable properties with us. Whether you own a home or business in Bedford, Assurance Pest Solutions is here to help keep the property you love pest-free.
We're proud to provide the most reliable services for pest control in Bedford. Here at Assurance Pest Solutions, our local experts provide you with a solution instead of just managing your pest issues. We aren't motivated by simply controlling pest problems; we want to solve them instead. While we provide effective pest management along the way, we never stop at that. We're prompt and responsive, never leaving you wanting for service. We're continuously training our experienced technicians to ensure your property is always being treated with the best materials and methods on the market. You can count on us to bring the best industry knowledge to the customized treatments we provide for you, making your commercial or residential property in Bedford pest-free again before you know it!
Residential Pest Control In Bedford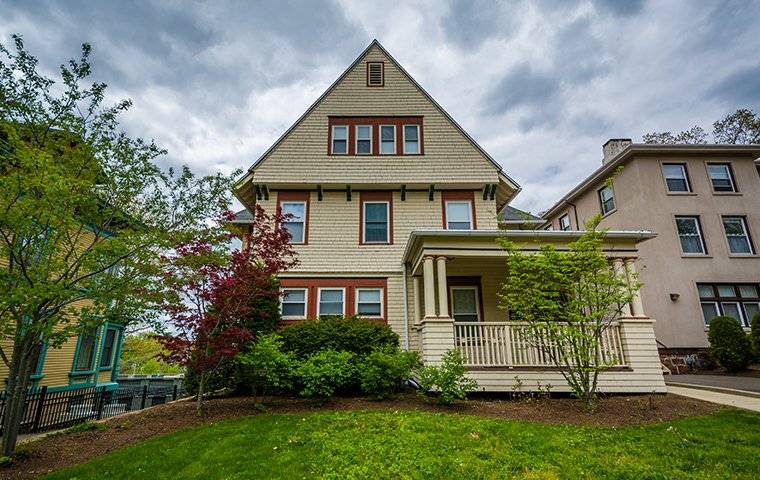 When it comes to residential pest control in Bedford, our experts know what we're doing. When we start a residential inspection, we start with the basement and attic of your home, looking for damage, entry points, and signs of pest activity. Next, we look at the exterior of your home for conducive conditions, wood-to-soil contact, and trees or vegetation that touch your property. Then, we work on sealing off the areas of your property's foundation where pests could make their way inside. When it comes to treatment, we always use the safest and most effective methods, tailoring our home pest control services to meet the needs of your unique situation.
We specialize in the extensive array of pests that are likely to invade your residential property, including rodents, ants, cockroaches, bed bugs, stinging insects, wood-destroying insects, wildlife, and more.
When you see signs of any of these pests, remember that Assurance Pest Solutions is only a call away. We're here to help restore the peace and high-quality conditions of the home you love. Get started working with our experienced professionals by giving us a call today.
Commercial Pest Control In Bedford
When you need quality commercial pest control services in Bedford, there's no better company to call than Assurance Pest Solutions. When we start our initial inspection, we'll look at the interior of your property. We'll examine utility, food, storage, and cooking areas, looking for droppings and signs of pest activity.
Then, we'll take our inspection to the exterior of your business property. We'll walk along the entire outside, looking to identify where there are conducive conditions for pests to thrive or gain access to your building. Then, we'll set up monitoring devices so that we can assess the active problem in real time. The next step is to seal up utility openings around the building that pests could use for access, assess if door sweeps are needed, and write a detailed service report so you have all the facts at your fingertips.
We frequently serve the following types of commercial establishments:
Restaurants or bars
Apartment complexes
Schools
Office buildings
Warehouses
Nursing homes
Hotels
If you own a business, rely on us for the most dependable commercial pest control services in Bedford. We're here to help get your business back to running smoothly by restoring a pest-free environment that your employees and customers can enjoy. Routine service will proactively protect your business from future pest problems, so give us a call to get started with commercial pest control that works.
Natural Ways To Deter Wildlife From Your Bedford Yard
When you need wildlife control that's natural and effective, you need professional help from our local experts here at Assurance Pest Solutions. We use a variety of natural methods to safely remove bothersome wildlife from your property, including:
One-way doors
Wire screening
Rolled sheet metal
Live traps
Positive set traps
To ensure effectiveness, we'll check traps every 24 hours. For one-way doors, we'll come back within two to three weeks to secure the area. We always conduct our wildlife services with humane trapping so that you never need to compromise your values in order to make your property safe again.
Rely on us for humane wildlife control services in Bedford. Give us a call to make your property safer today!
The Best Way To Get Rid Of Ants In Your Bedford House
The best way to get rid of ants that are scurrying around your home in Bedford is to rely on professional ant control services from Assurance Pest Solutions. While many kinds of ants aren't harmful, they're annoying little pests that can contaminate the surfaces they run along and the food they're able to access. Ant infestations can grow quickly if not treated, so call in the ant control experts so you can enjoy an ant-free home once again.
Get Started Today!
Complete the form below to schedule your services.